With all the excitement over gender reveals, it seems like there are fewer couples waiting until the big day to see if they are having a boy or girl. Since we chose to wait, we were forced to keep everything gender neutral; especially in our nursery design. To me this has been a fun challenge! Even if you don't want to wait to find out the gender, creating a neutral themed nursery can be a great option for the long run as these typically have a more elegant and modern appearance that can grow with the child. Check out some of my favorites for inspiration below.
1. Safari or Jungle
Gone are the days of childish jungle themed nurseries and in its place are bold textures, and unique prints and/or artwork that combine to create an upscale safari theme. I personally love the modern prints above the crib that tie perfectly with the potted plant. The standing giraffe and elephant print are the only obvious clue that this is a safari theme. If you want a feature wall consider adding wallpaper in a subtle leopard spot.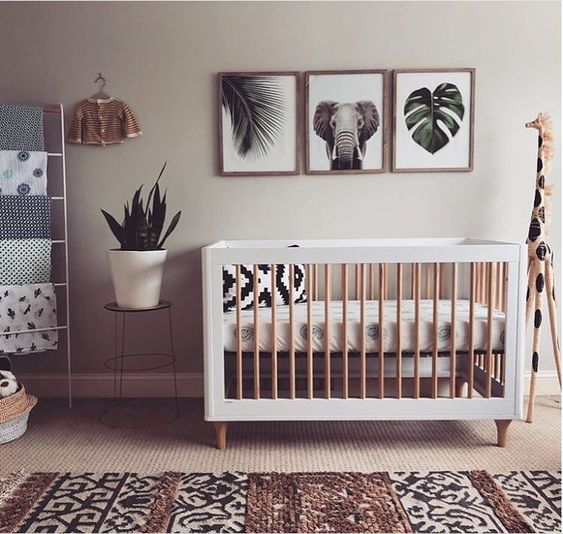 2. Boho Chic Nursery
Boho Chic nurseries are a wonderful blend of eclectic designs, patterns and textiles coupled with lush green plants. Don't worry those plants can always be fake if you don't have a green thumb. Layered rugs and a unique wallpaper on the back wall create a rich and luxurious feel while keeping the eye moving. The best part about this design is there are no rules, so feel free to do what feels best to you!
3. Modern Glam Nursery
This is one of my favorites. Not only are they keeping the nursery gender neutral but this was designed for twins (which is always more of a challenge)! Keeping the pops of gold limited to the curtain rod and pouf creates a glamorous feel without being too overwhelming. The gorgeous lamp adds a touch of luxe that is an absolute show stopper! A beautiful blend perfect for a boy or girl.
4. Vintage and Classic
Lynzy with Lynzy & Co. decided to create a shared nursery and guest room. If you're limited on bedrooms this can be a great option for you! I absolutely love the vintage touches throughout the space but I think one of my favorites is the beautiful lamp she found at Bleu Spruce.
5. Coastal Charm
There's nothing more soothing to me then waves crashing on the beach. Incorporating these relaxing elements into a nursery with various blue accents and calming shades of white or beige creates the perfect oasis. If the blues are too much for you, try adding a contrasting color like coral or yellow (this can be done in the gold tones on hardware or frames). Throw in a couple jute baskets and voila!
6. Rustic Woodland Nursery
This gorgeous woodland nursery keeps the eye moving throughout. Amanda sporadically uses red foxes throughout the room and plays off of those tones in her choice of a rug. A woodland theme is great for a gender neutral nursery because you have a ton of options as to what direction the design can take (i.e., a focus on foxes, birds, trees, etc).
7. Bold Black
Don't be intimidated by using a bold color in a small nursery. Teal Rybchuk creates a dramatic effect without making the room feel like a cave by keeping the matte black to one wall. When opting for a darker color be sure to get the paint in matte or eggshell to avoid the high shine. Because she limited the colors to black and beige this nursery has an elegant feel.
8. Worldwide Travels
If you have been lucky enough to travel around the world, use this as inspiration for your little one's nursery! Think of all the pictures you've taken or souvenirs you've brought home that you can repurpose as artwork for the baby's room. As a result, this nursery becomes not only a beautiful work of art but something incredibly meaningful to your family.
9. Cactus Nursery
Courtney's modern cactus themed nursery is a huge hit! I love the mix of industrial metals in the fan with the rich leather in the ottoman. The biggest hit is the bold punch of green in the crib. By making this the focal point and keeping everything else toned down in neutral shades, the eye is kept moving throughout the space without being overwhelmed.
10. White and Bright
Jillian Harris' gorgeous white nursery is anything but boring. The beautiful hint of animal print wallpaper with pops of yellow make this a sunny and inviting atmosphere. The bold yellow curtains play off the various hints of yellow scattered throughout the nursery.
Which is your favorite? Let me know in the comments below. Be sure to subscribe for more tips on creating a beautiful nursery as well as our very own nursery reveal coming soon!
If you would like to set up a consultation for your next project contact me today!